Did You Know
1974 State Champions
|
Bill White
|
Ed Smith
|
Golden Era For Warren Football
|
Jack Gysegem
|
Jim Brutz
|
Nick Frankos
|
Paul Warfield
|
Ross Browner
|
Warren Baseball Championship Recognition
|
Warrens Baseball Heritage
|
Warrens Football Legacy
Warren Baseball Championship Recognition
1933 State Champs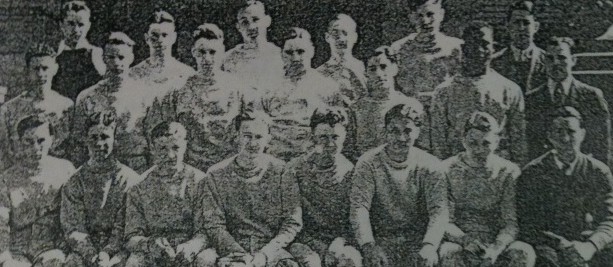 Row 1 - Palovitch, Laprocina, Fetchko, Martz, Holko, Butchko, Zoba, Sferra
Row 2 - Thomas, Groves, Latimer, Avis, Sennes, Brogdon, Coach Lafferty
Row 3 - Boncory, Lewis, Simon, Burick, Jadon, Verlenich
*1933 "Echoes" yearbook Baseball preview, published before baseball season opened
Coach Dwight B. Lafferty expects to have an exceptionally good baseball team this season. Those who are returning from last year's squad are Zoba, Davis, Burick, Holko, Martz, Fetchko, and Thomas. Others who have developed in the American LEgion Tournament during the summer are Butchko, Laprocina and Simon.
Coach Hill has had a hard time arranging a schedule, as most of the teams around here have given up baseball. The schools that are considered are Cleveland, Sharpsville, and Braceville, Coach Lafferty expects to enter the team in the State Baseball Tournament.
1934 State Runners-Up
Harding baseball squad was dealt a severe blow by graduation, as eight letterman were lost from last year's State Championship team.
However, with four letterman, including the two regular pitchers, as a nucleus, the 1934 team developed into a formidable aggregation. The President's baseballers were decked out in new uniforms this year, which greatly added to the appearance of the team.
The varsity lineup included Butchko and Palovich, pitchers; Sanfrey, Chickerneo, Bowers, catchers; Fini, Hurton, Haddock, Brogdon, Heldack, Durkin, infielders. Simon and Craver received medals from the letterman's club for earning two letters in the sport.
The schedule included games with Mecca, Bloomfield, Hartford, Martin's Ferry, East Liverpool, Lakewood Memorial and the District Tournament in Cleveland. (When this write-up went to press, the team had won the District Tournament and was slated to participate in the State Tournament in Columbus.)
BASEBALL SCORES OF '48
We
They
11
Leavittsburg
4
6
Boardman
1
3
Yo, Chaney
4
11
Campbell Memorial
0
12
Youngstown North
0
3
Youngstown South
0
6
Girard
7
5
Youngstown East
6
4
Struthers
9
6
Austintown Fitch
5
Youngstown District Tourney
5
Austintown Fitch
0
4
Struthers
0
7
Youngstown South
1
2
Youngstown Chaney
1
Bridgeport Regional Tourney
13
Ironton
4
10
Wadsworth
0
Columbus State Tourney
9
Columbus Central
4
6
Cincinnati Western
8
1948 State Runners-Up
Ending the best year of spring sports in the school history, 1948 produced the first baseball team since 1934 to enter the finals of the state tournament. Behind the fancy twirling of D. Robison, who hurled a brace of one-hitters along with a pair of two-hitters, and Lotz, who fired a one-hit shutout and three two-hitters, the Panthers pounded out fourteen wins against four losses.
Beginning their victor trek in the Youngstown District Tourney, the locals opened with a convincing 5-0 win over Austintown Fitch. Registering their second shutout in as many days, the Panthers put down Struthers on a one-hit, 4-0 decision. The Cavaliers of Youngstown South were the next to feel the raking Panther claw as Lotz doled out two hits in a neat 7-1 win. Youngstown Chaney, generally conceded to be the toughest team in the Youngstown district, was the next to fall victim to Robison's fireball, as the locals clinched the district championship with a 2-1 win.
Advancing to the Regional Tourney at Bridgeport, the Panthers were solidly behind Robison, getting 13 runs to clinch the semi-finals with Ironton 13-4. Less than an hour later, Lotz was on his way to pitch a 10-0 shutout against Wadsworth in the finals.
In the shadow of Ohio State Stadium the following weekend, Robison again took the mound against Columbus Central and matched Lotz's two-hitter with a 9-4 win. Lotz was assigned to start against Cincinnati Western Hills, an aggregation with several veterans from the 1947 American Legion National Championship team, and after a wobbly start was relieved by Robison. It just wasn't Warren's day, however, and the final inning showed the Panthers on the short end of a 8-6 score.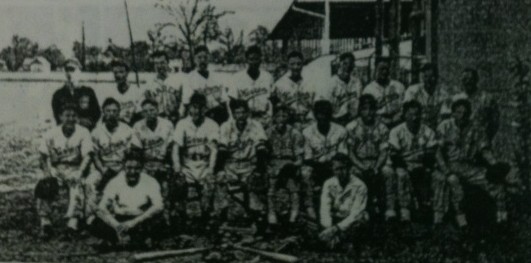 Front - Managers F. Rolan and B. Seifer
Row 2 - L.Schier, D.Ford, B. Bevan, R. Blazek, H. Venetta, J. Williams, L. Thompson, G. Nester, E. Mink, B. Allard
Row 3 - D. Robison, J. Carnahan, B. Glass, M. Lotz, C.Hightower, J. Nesbitt, T. Bohyer, R. Robison, E. Cless, Coach Lafferty
WWR
OPP
5
Newton Falls
1
9
Ravenna
4
2
Champion
3
1
Canton McKinley
0
0
Canton McKinley
7
3
Painesville Harvey
2
3
Painesville Harvey
4
5
Youngstown East
1
6
Alliance
0
8
Hubbard
3
0
Howland
4
3
Niles
6
0
Barberton
12
*3
Warren Harding
2
0
Austintown Fitch
2
*9
Hubbard
2
10
Niles
5
3
Niles
6
7
Howland
4
3
Campbell Memorial
4
7
Youngstown Wilson
0
8
Poland
6
6
Cuyahoga Falls
4
6
Cuyahoga Falls
5
*7
Cuyahoga Falls
6
0
Brookfield
4
6
LaBrae
7
*4
Boardman
1
10
Warren Harding
9
*1
Toledo Whitmer
0
*2
N. Canton Hoover
0
*0
Findley
4
*Tournament games
1971 State Final Four
Baseballers power to '71 Ohio finals
The 1971 Raider baseball team was the best in the history of the school. The baseballers participated in the baseball tournament, winning the sectional title, district title and the regional title, before losing to the State champs in the State semi-finals. The Raiders were led by the pitching of Jan Sulonen (9-2) and Mel Dunklin (5-1). Lloyd Burnette (.355) and Lloyd Sprockett (.317) led the hitting for the Raiders. The success of the Raiders involved good pitching and stingy defense.
* from the W.W.R. 1972 yearbook
| | | |
| --- | --- | --- |
| Joe Motorana | | Robin Vinovich |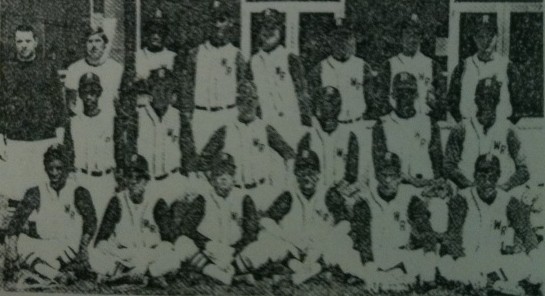 Row 1 - R. Green, R. Hodinka, J. Hickman, L. Burnette, T. Dragash, J. Albani
Row 2 - R. Ingram, J. Richards, G. Cicero, D. Reed, T. Phillips, C. Haynes
Row 3 - Asst. Coach Cavalcante, Mgr. J. Guzan, M. Dunklin, R. Vinovich, M. Stemock, J. Motorana, J. Sulonen, L. Sprockett