Did You Know
1974 State Champions
|
Bill White
|
Ed Smith
|
Golden Era For Warren Football
|
Jack Gysegem
|
Jim Brutz
|
Nick Frankos
|
Paul Warfield
|
Ross Browner
|
Warren Baseball Championship Recognition
|
Warrens Baseball Heritage
|
Warrens Football Legacy
Paul Warfield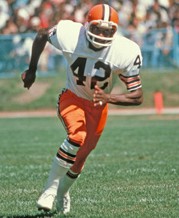 Paul Dryden Warfield (born November 28, 1942 in Warren, Ohio) was a professional football wide receiver in the 1960s and 1970s known for his speed, fluid moves, grace, jumping ability and hands.
Warfield graduated from Warren G. Harding High School in Warren, Ohio in 1960. He was a star running back and defensive back for the Panthers, joining the varsity as a sophomore in 1957. In 1958, Warfield ran for 810 yards and scored 15 touchdowns - a campaign highlighted by a 6-0 victory over the powerhouse Massillon Tigers. Warfield ran for 1158 yards in 1959 and hit the pay dirt 13 times. Warfield also set a state mark in the long jump.
He graduated from Ohio State University where he shined as a two time all Big 10 halfback in the 1962-1963 season and as a track team sprinter, jumper and hurdler. Warfield played for the Cleveland Browns as a wide receiver from 1964 to 1969. In 1970, in a then-controversial trade, Browns owner Art Modell dealt the still great Warfield to the Miami Dolphins for a draft pick which the Browns used on Purdue University All-American quarterback Mike Phipps. Phipps never panned out for the Browns and Warfield was a major factor in the Dolphins' championships in the early 1970s.
In his 13 NFL seasons, Warfield caught 427 passes for 8,565 yards, giving him an amazing 20.1 yards per catch average, and scored 85 touchdowns. He added another 204 yards on 22 rushing attempts. In his only WFL season (1975), he caught 25 passes for 422 yards, a 16.9 yards per catch average, with 3 touchdowns.
In his rookie season 1964, he caught 52 receptions (his best season for receptions) for 920 yards and 9 touchdowns as the Browns won the NFL Championship.
Paul Warfield is a member of the Pro Football Hall of Fame Class of 1983 and a member of The Warren Sports Hall Of Fame in 1989.