Did You Know
1974 State Champions
|
Bill White
|
Ed Smith
|
Golden Era For Warren Football
|
Jack Gysegem
|
Jim Brutz
|
Nick Frankos
|
Paul Warfield
|
Ross Browner
|
Warren Baseball Championship Recognition
|
Warrens Baseball Heritage
|
Warrens Football Legacy
Jim Brutz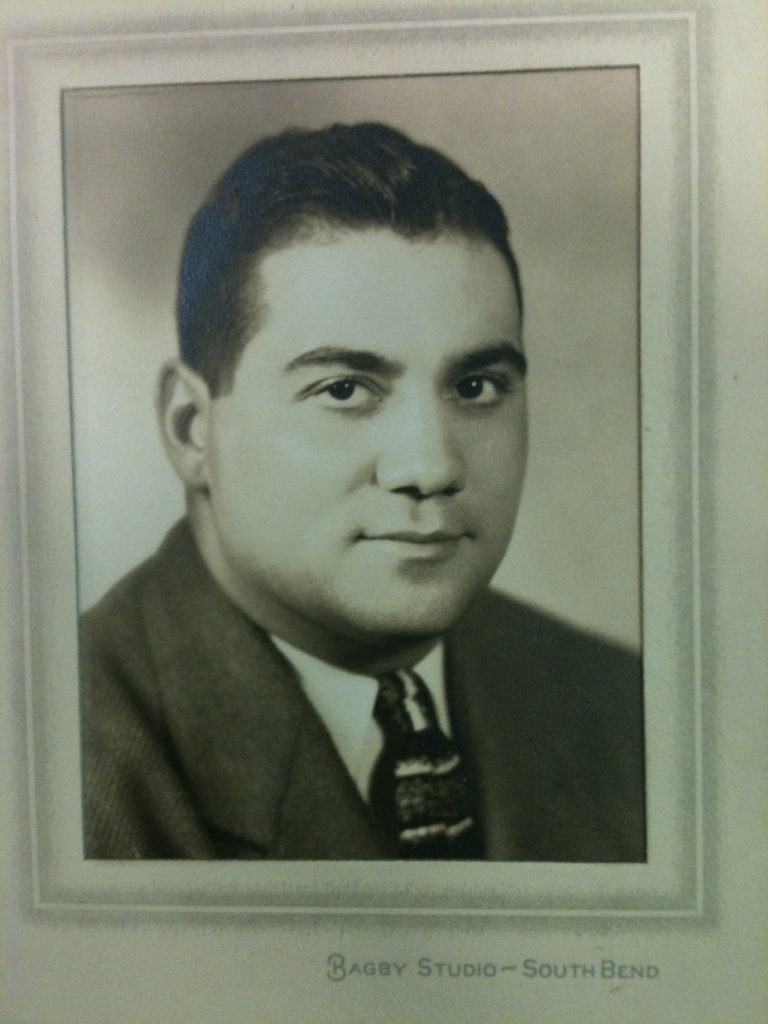 Born: February 12, 1919, Niles, Ohio
Died: November 5th, 2000
Sport: Football
Height: 6' 1"
Weight: 220 lb.
Positions: Left Tackle
High School: Warren G. Harding Presidents
College: University of Notre Dame, B.A., 1938 to 1942
Military Service: U.S. Navy, 1942 to 1946, Rank - Lt. Commander
Professional Team: Chicago ROckets, All-American Conference, 1946 to 1950

Brutz began his high school career playing for Niles High School. As a result of this play and size, his mother was approached by Warren's Head Coach Pierre Hill in 1937 and was asked if "Big Jim" would like to play for Warren. If so, Brutz would be paid $1.00 per day to attend Harding. Brutz's mother, being a widowed immigrant from Italy with six (6) other children during the Great Depression, agreed. Every morning his sister would drive him to a cousin's house in Warren and he would walk to school. Brutz recalled that on the first of every month he would go to Principal Mollenkoff's office and receive a check for $31.0 payable to his mother. Brutz had a stellar career at Harding becoming the first Harding player to garner All-State honors.
Upon his graduation, Brutz received an athletic scholarship and enrolled in Notre Dame. For his first three years Brutz played for Coach Elmer Layden, one of the original Four Horsemen. Prior to his senior year, Layden left Notre Dame to become Commissioner of the National Football League. The new coach hired was Frank Leahy, who became a legend in collegiate coaching. Brutz started at left tackle for two years alongside his dear friend and local legend at end, Bob Dove. During his senior year 1941, Notre Dame was 8-0-1, tying a formidable Army team 0 to 0 and finish second in the national polls.
Brutz was named MVP of the 1941 Notre Dame team, and to this day, is the only interior lineman in the history of Notre Dame Football to have that honor bestowed. Brutz was also named to several All-American teams and in the Fall of 1941 was being scouted by serveral NFL teams prior to Pearl Harbor. At the outbreak of World War II, Brutz enlisted in the U.S. Navy and was inducted into service the day after his college graduation ceremony in May, 1942. Brutz played on several naval base football teams. Brutz earned the rank of Lt. Commander and served on an LST. Brutz participated in the landings of the Phillippines and Okinawa. Upon his discharge in 1946 Brutz signed with the Chicago Rockets of the the All American Conference which inclued the Browns, Dons (49'ers), Seahawks (Dolphins) and several other current NFL franchises. Brutz played left tackle for the Rockets until a severe knee injury forced his retirement in 1950.
Upon his retirement from football Brutz returned to Warren and became a teacher and then a successful real estate broker. At his death Brutz was still an avid Notre Dame fan. He was survived by his wife Adela, three children and six grandchildren.