Home
Coming soon: recognition of Warren's Championship Coaches!
Built at Mollenkopf: A look at the Harding vs. Western Reserve rivalry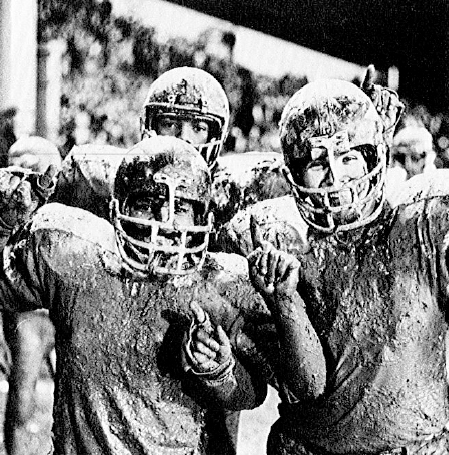 WARREN - In the early 1960s, Warren G. Harding High School was bursting at the seams.
The abundance of jobs in Warren caused a population influx in the city, leading to an increase in number of students.
The high school had become so crowded, in fact, that students were attending in alternating shifts, some starting at 8 a.m. and others at 9 a.m. and then ending at staggered times.
"We were graduating 800-900 kids and there were 12 to 13 Elementary schools," Pat Guliano, current Northeastern Athletic Conference Commissioner and former Warren City Schools administrator said. "That had to change."
To create space for an education experience, Western Reserve High School opened in 1966 on Warren's west side. Beyond education, however, the move set in place one of the greatest high school rivalries in Ohio and created yet another era of Warren football.
"When the schools split, there were people that were happy about it, and there were people that weren't happy about it," Guliano said. "But kids were going (to school) in shifts just so they could fit into classrooms."
A move to two high schools in Warren was needed and the opening of Western Reserve had a plethora of benefits for both the community and the football team.
With just one school and one football team, sometimes capable players who were buried on the depth charts missed chances to step on the field.
Once Western Reserve opened, more athletes got opportunities, and the depth of the talent in Warren was showcased for the next several years.
"When you divide a town up like we did, many would think the athletic programs would suffer, but just the opposite happened," former Warren Western Reserve head coach Joe Novak said. "More kids got a chance and thrived with those opportunities. When we played Harding, then we had 14,000 to 15,000 people in the stands. It was packed. The whole town was wired up something special."
THE GOLDEN ERA OF WARREN FOOTBALL
Between 1966 and 1974, the Harding Panthers went 58-34, turned in only one losing season - a 3-7 year in 1967 - and put together an undefeated season in 1971 to earn an Associated Press state title. The Panthers went on to blow out Upper Arlington 41-8 in 1974 to win its first computer-rankings state championship.
In the same era, the Western Reserve Raiders went 81-13, put together four straight 9-1 seasons from 1967 to 1970 and won its first state title in 1972 with a perfect 12-0 record. Led by Novak, the Raiders returned to the state title game a year later but fell to a strong Cardinal Mooney team at the Akron Rubber Bowl.
It was truly a golden era for Warren football.
"If you look at the plaques out there in the hallway (of the football building), from '71, '72, '73, '74 the state championship was in Warren," current Warren G. Harding football coach Steve Arnold said in a separate interview. "In four years it was either Harding or Reserve in the state championships, and that was a couple years after Reserve opened. from that point, it was: Who is top dog in the city? Is it Reserve or Harding?"
Behind legendary coach Tom Batta, the Panthers finished the '71 season with a 10-0 record and capped it off with a 27-0 shutout of Niles. They later were awarded the state title by Associated Press voters.
Their season also included a win over Western Reserve (15-8) and an exciting one-point victory over Massillon (8-7). Their victory over the Tigers was the eighth of the season, and it ended a lengthy road losing streak against their longtime rival.
Three years later, the Panthers did it again, this time capturing their first computer-rankings title as they defeated Cincinnati Archbishop Moeller 20-10 in the semifinals and then cruised to their state title over Upper Arlington.
Between Harding's two state championship runs, Western Reserve had a special run of its own as Novak led the Raiders to an overall record of 23-1, one state championship and two state championship appearances.
The run was highlighted by players like Ross and Jimmie Browner, as well as tailback Mike Spiva and captain Calvin Washington.
In 1972, the Raiders topped Toledo Scott 23-15 in the semifinals before destroying Cincinnati Princeton in the state championship, 37-6. Western Reserve's '72 state championship team will be honored on Sept. 16 ahead of Warren G. Harding's matchup against Ursuline at Mollenkopf Stadium.
A year after Western Reserve's state title run, the Raiders made it back to the state finals after topping Cincinnati Archbishop Moeller, 20-10, in the semifinals. But, Cardinal Mooney brought the run to an end that season, handing the Raiders their only loss in two seasons.
"It was just a really special time because you had a lot of outstanding players that were just dedicated and you had a community that supported it and (who) it was important to," Novak said. "It was important to those kids to have success in football, and it was important to the community that they had success in football, and it was just an electric time."
That four-year stretch of football in Warren was littered with both talent and success, which further fueled the Harding-Western Reserve rivalry and grew the legend of Warren football.
THE RIVALRY CONTINUES
As the rivalry grew, so did popularity of the sport. Extra sections had to be added at Mollenkopf Stadium to accommodate the enormous crowds each weekend.
"There was so much demand, they probably could have sat 30,000 in there (Mollenkopf Stadium)," current Warren G. Harding athletic director Bill Nicholson said.
Over the years, no matter how good either team was, you could expect a physical, tough and exciting game when both teams walked onto the sidelines opposite of each other.
And fans needed to arrive early.
Arnold recalled that for a 2 p.m. afternoon game, the stands would be filled by 12:30.
"You had people tailgating, I remember people barbecuing ribs, hot dogs and hamburgers," Arnold said.
LeShun Daniels, who was a lineman for Western Reserve and then for Warren G. Harding after the 1990 consolidation of the two high schools, said the rivalry games were what he remembers most from that era.
"You knew the game was going to be packed," Daniels said. "The whole town was going to be at the game, and you wanted to see who was going to come out as the winner. You possibly had family members or good friends on each team, but the rivalry was so fierce, just the anticipation leading up to that week, you knew it was going to be a great game."
For 23 years, Harding and Western Reserve battled on the gridiron, and community members still talk about the rivalry even today.
Many also still recall the long wait in line for game tickets at Quinby Park, game week pranks - including the increase in egg sales - and the support from respective booster clubs.
As Warren's population decreased in the late 1980s, so did the need for two high schools.
City Schools officials faced a difficult decision to close one of the buildings and consolidate.
This challenging decision - logistically and emotionally - laid the groundwork for an opportunity again for something special in 1990.
JFK wins state title
Eagles claim school's first championship in baseball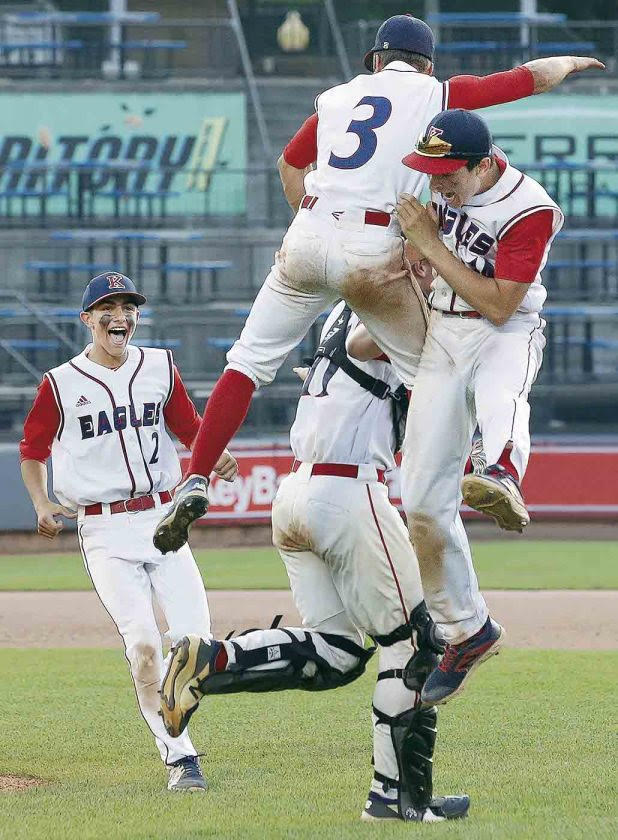 ---
AKRON - Coming into the 2021 season, Kennedy's baseball team had plenty of question marks.
On Sunday, the Eagles changed those question marks into exclamation points.
With six freshmen, only four returning letter winners, 11 players and no 2020 season, the current season could have gone in any direction. But Kennedy was the only Division IV team in the state to end its 2021 season with a victory, beating Van Wert Lincolnview 4-0 at Canal Park to win the first state title in the school's baseball history.
"We've got a great team, and I had a lot of trust coming in with them," pitcher Gavin Shrum said. "Cam got it done for us yesterday and brought us here, I just felt like I had to do the job, and I think I got that done today.
"We knew we had a good team coming in, we knew they threw their best pitcher yesterday, but they still had another good pitcher. Honestly, we like harder pitching, we like faster pitching and we just really got on them and we stayed on. We stayed within ourselves, and we won."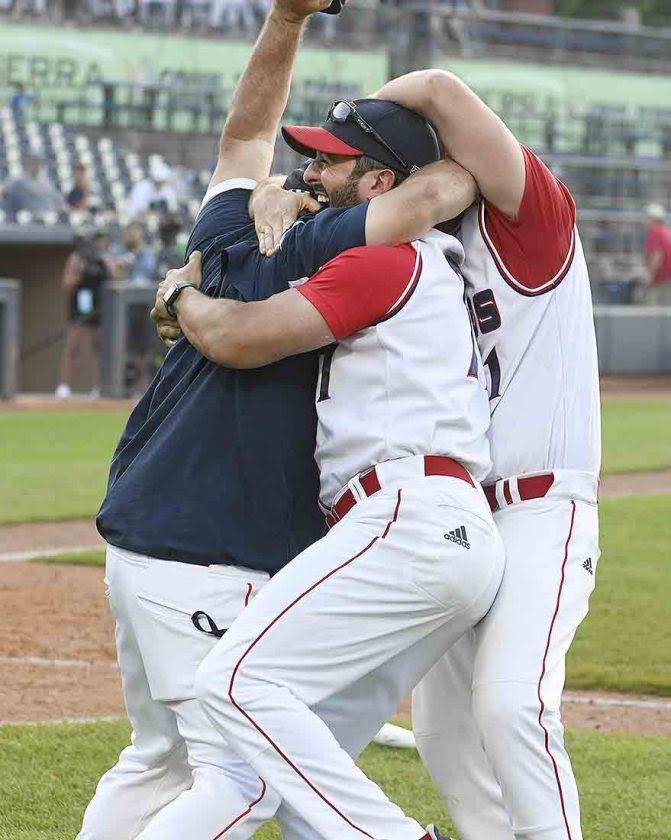 ---
Caleb Hadley broke open the Eagles' semifinal win on Saturday, and Sunday's hero was junior Michael Mauro.
Lincolnview knew about the three and four slots in the lineup (Shrum and Cam Hollobaugh) and wanted to make someone further down the lineup beat them.
That is exactly what happened.
Mauro hit a single that kickstarted the team, scoring Hollobaugh and opening the floodgates.
After Hollobaugh scored, Aiden Rossi and Santino Ciambotti each hit RBI singles to score runs and put the team up 3-0.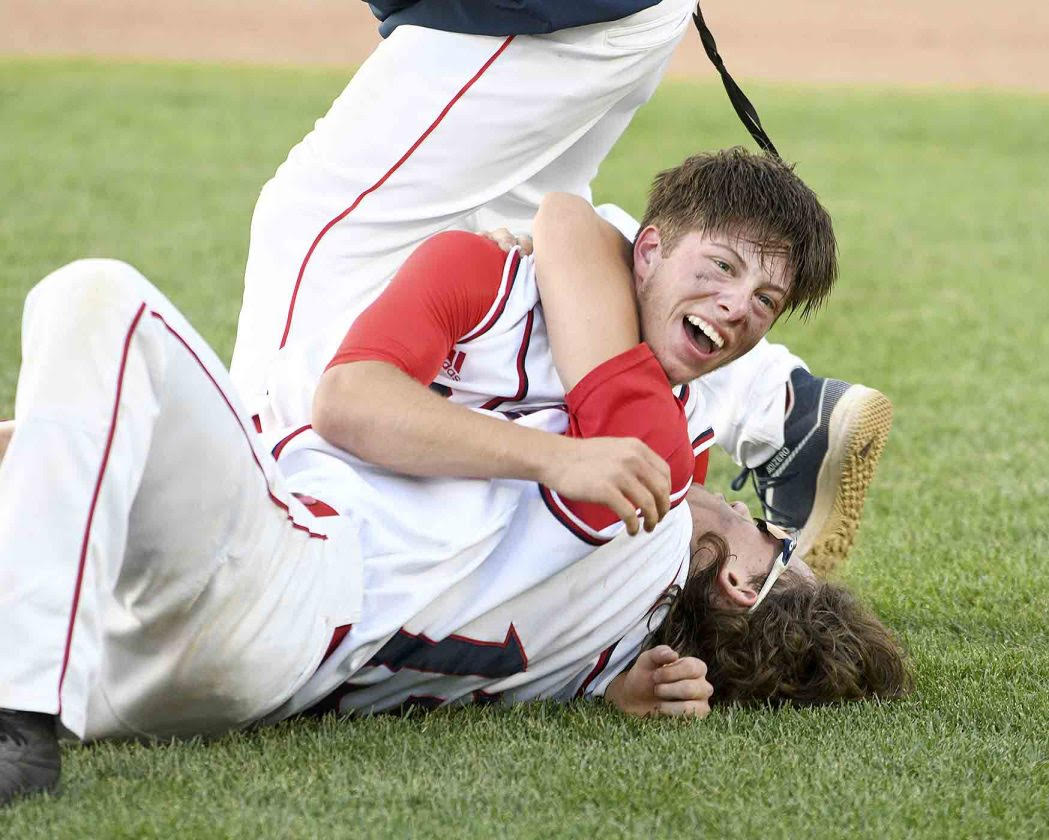 ---
In the next inning, Rossi hit a ball to left field for his second RBI of the afternoon.
"That's what good teams do, they pick each other up," first-year coach Jim Ciambotti said. "They knew our middle of the order, they were gonna try to work around, and Mike made them pay for it."
Shrum, who scored the fourth and final run for the Eagles on Rossi's hit, manned the mound for Kennedy, striking out seven and surrendering only five hits.
Ciambotti sees a bright future for his pitcher.
"He's a bulldog," Ciambotti said. "He's a scrappy, hard-nosed dirtbag baseball kid. He always loves to take swings, always thinking about baseball, the next game, the next opponent. He's going to be a great coach someday too."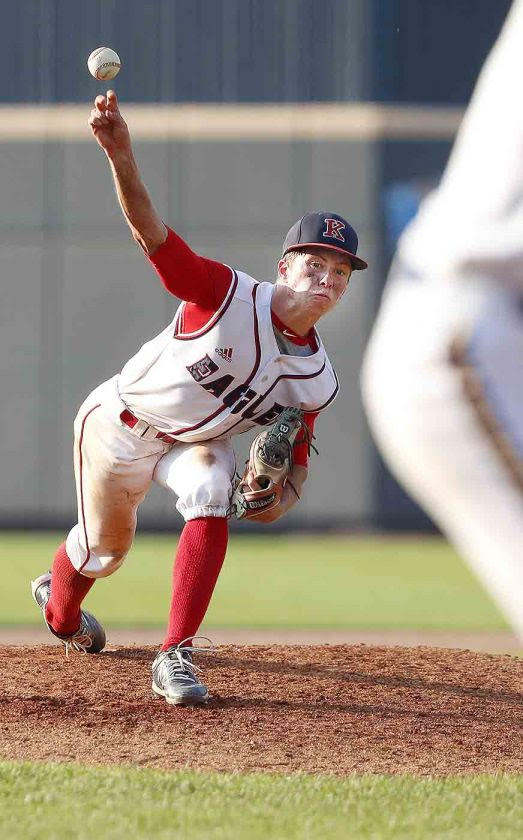 ---
The state championship victory marks the end of the road for the lone senior on the team Hollobaugh.
After losing in the state final in football and a regional final in basketball, Hollobaugh got to cap off his career with a championship in one of the two sports he'll be playing at the next level at Walsh University.
"It means everything to me because I'm a senior and to go out in my last game I ever get to play at Kennedy and win a state championship, there's no better feeling," Hollobaugh said. "It's surreal. It's just the best feeling in the world. I'm going out with a win and I'm getting a ring. I'm just so excited.
"This has been the best four years of my life. Athletically, academically, it's just been the best. I couldn't have asked for a better school, program, anything."
Going into Sunday's game, the tight-knit Eagles wanted to get the win not only for themselves, but for the football players on the team who had missed out on lifting the big trophy.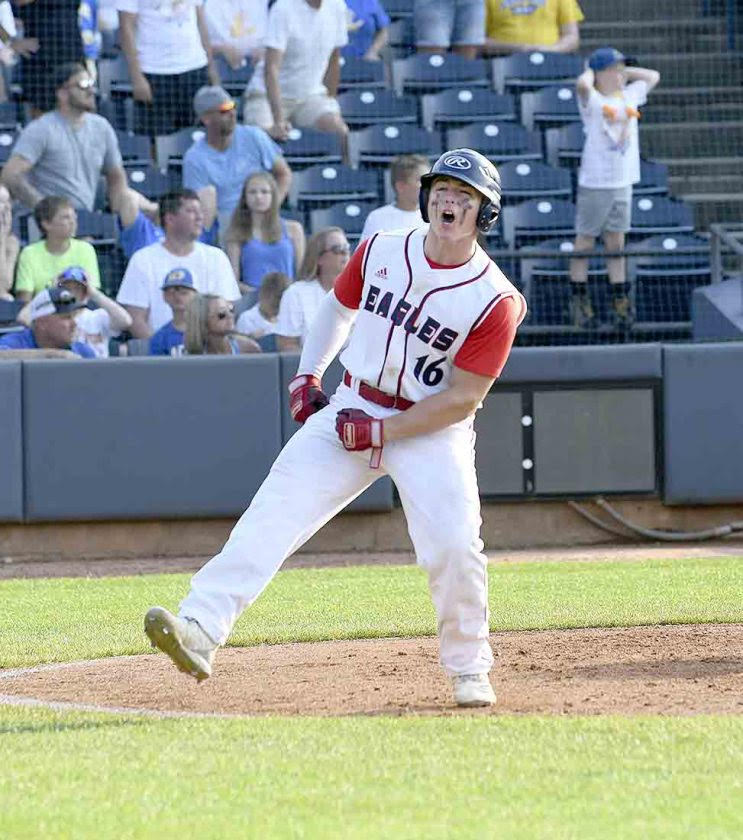 ---
At the start of the season, JFK's basketball success limited the small Kennedy baseball roster even further, as they had to practice with a lineup too small to field a full team.
"Because Kennedy's a small school, they're all very tight," Ciambotti said. "These kids all play different sports with each other, like we had six of the guys play basketball. In February we were practicing with five guys until a week after the basketball season because they went to the regional, so yeah, it makes us a tight-knit group."
Kennedy ends its season at 22-9.
"It was an incredible ride," Ciambotti said. "We took it one practice at a time, one game at a time, but we tried to keep the kids focused, looking at the big picture, not the little picture, and it worked out well."
With 10 returning players to next year's team, as well as an incoming class of freshmen, the Eagles hope to be making a few more appearances in Akron over the next few years.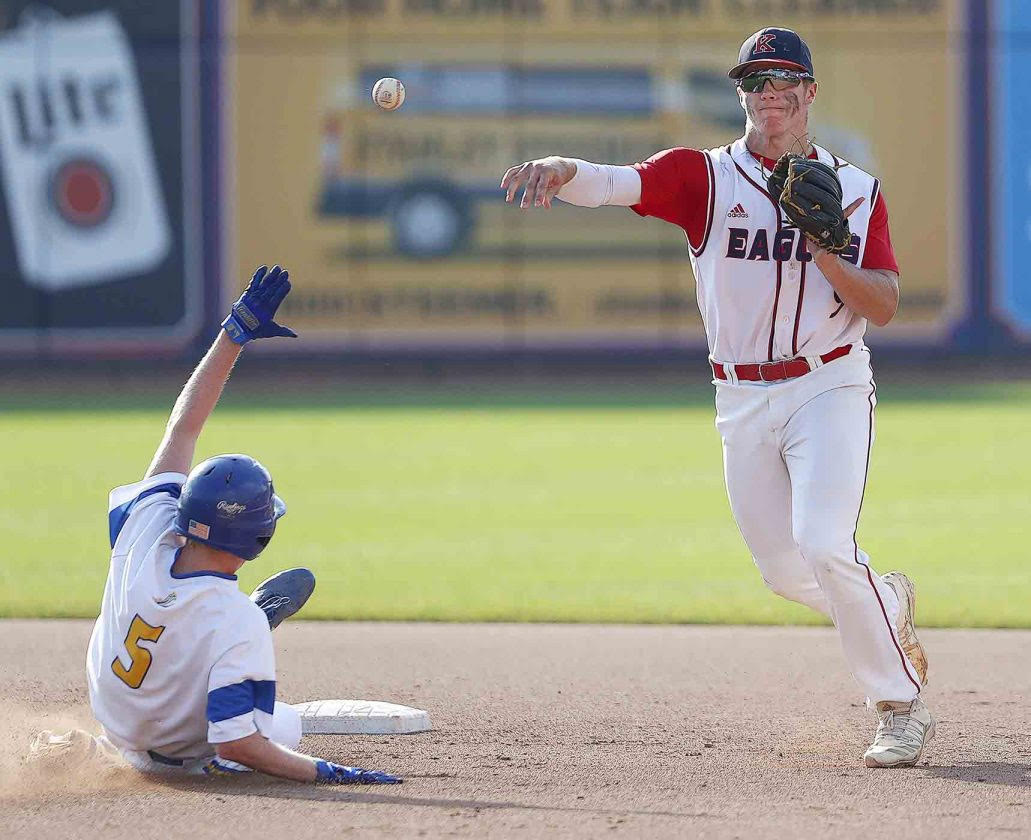 ---
"Well we have 10 coming back and obviously we're going to try to do this again," Ciambotti said. "We're trying to build a culture, so we want to do this year in and year out if possible. We bid Cam farewell, but the expectations start for the next group."
KENNEDY 4, LINCOLNVIEW 0
Division IV state championship
Kennedy (22-9) 000 310 0 - 4 8 2
Lincolview (24-9) 000 000 0 - 0 5 0
WIN: Gavin Shrum (7 strikeouts and 1 walk). LOSS: Collin Overholt (9 strikeouts and 3 walks). TWO OR MORE HITS: K - Gavin Shrum 2, Michael Mauro 2; L - Landon Price 2. TWO OR MORE RBIs: K - Mauro 2.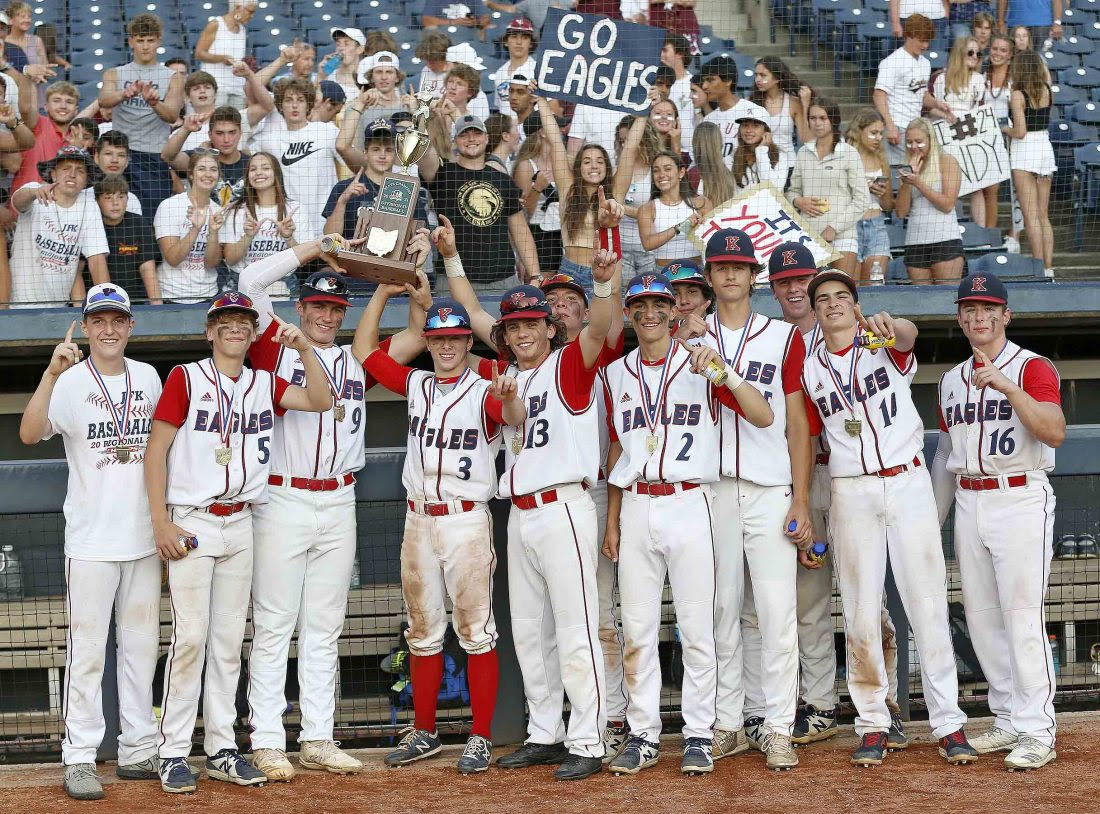 ---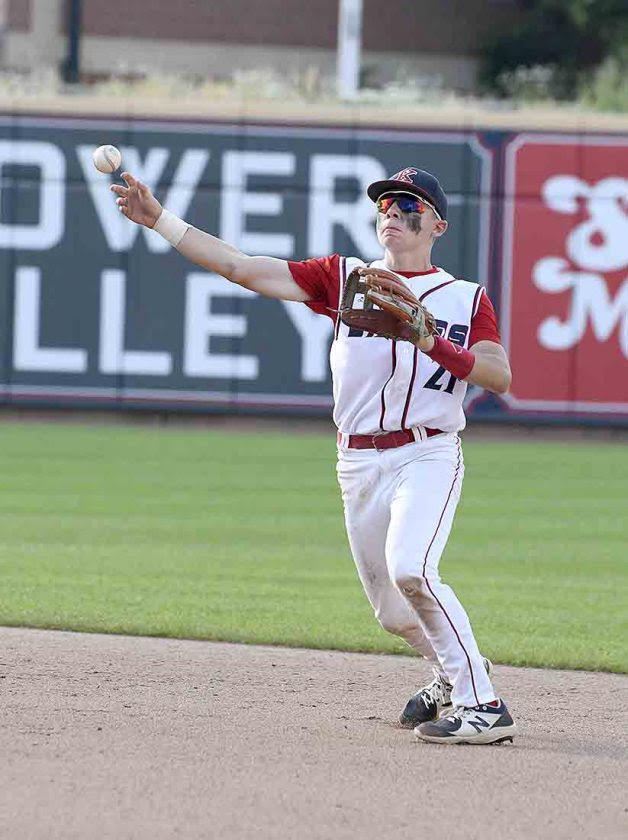 ---
Honored Founders
The Warren Sports Hall of Fame was formed in 1988 for the purpose of honoring the men and women in our community who have excelled in athletics or who have made substantial contributions to athletics in the Warren area.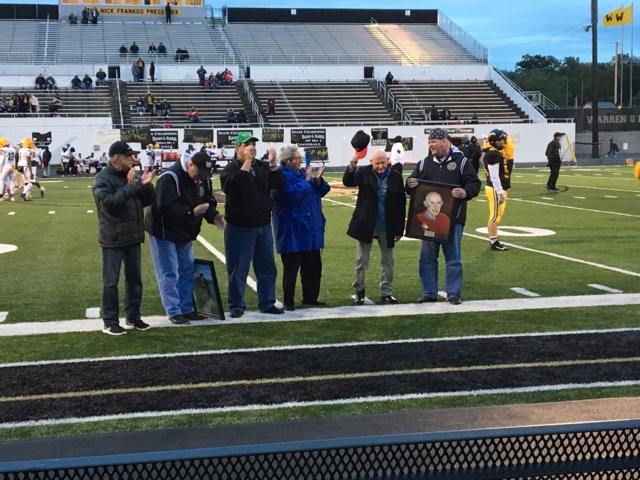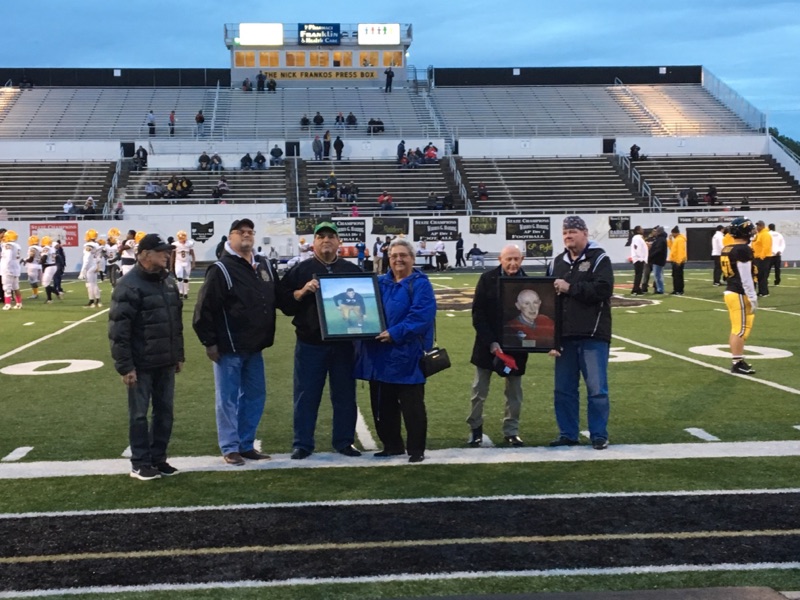 ---
2022 Golf Outing - Big Thank You to Everyone That Could Make It!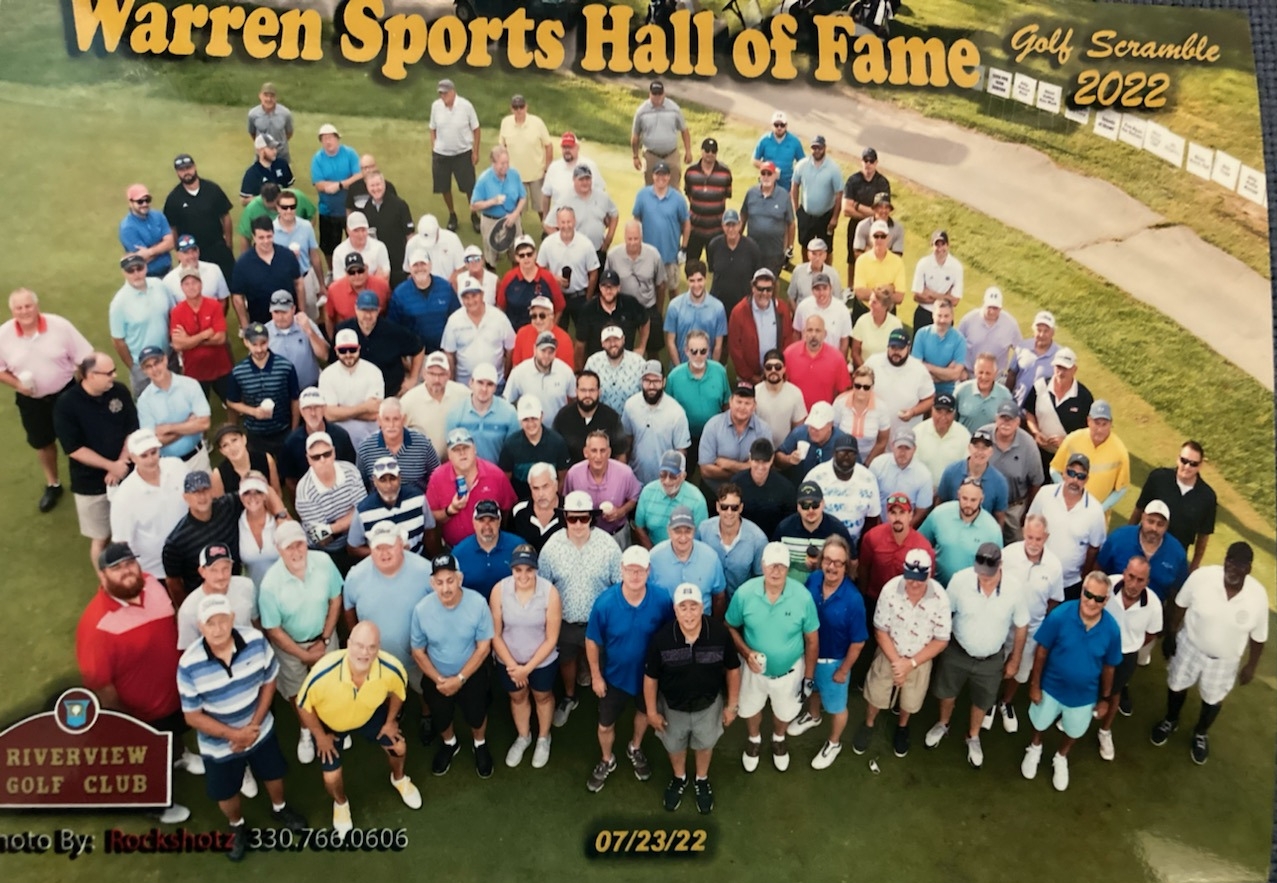 ---
Donation to Lance Adkins
The Warren Sports Hall of Fame contributed a donation for the expenses that Warren Policeman Lance Adkins has incurred during his recent treatment for cancer. Lance being an avid Michigan football fan along with the officers of the Warren Sports Hall of Fame, from left to right, Dennis Rossi, Joe Sekula and Shawn Bryant present a Michigan football signed by the Wolverine coaching staff.