Home
The Warren Sports Hall of Fame was formed in 1988 for the purpose of honoring those men and women in the community who have excelled in athletics or who have made substantial contributions to athletics in the Warren area. The Hall of Fame recognizes players, coaches, managers, trainers, team physicians and athletic directors among others.
Judge Donald R. Ford is credited with laying the groundwork for the organization. Bill White, former All-Star player and former President of Major League Baseball's National League, and Pro Football Hall of Famer Paul Warfield were two of the first inducted.
The Hall of Fame is administered by a board of trustees, which is selected for three year terms by the membership. The Board is led by a Head Coach, two assistant Coaches, a secretary and a treasurer.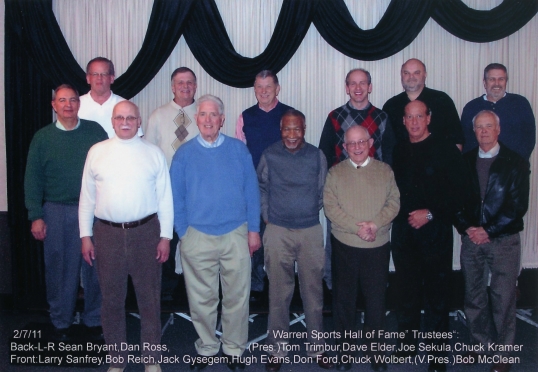 The east hallway entrance at the Warren-Trumbull County Public Library houses various display cases honoring those who have been inducted into the Warren Sports Hall of Fame. Each new class of inductees is honored at a Warren G. Harding or John F. Kennedy High School football game and at a formal banquet.
In addition, the organization hosts the annual "PIgskin Preview" and "Heroes Corner" events, as well as luncheon and dinner programs open to the public to bring outstanding speakers into the area.
Membership to the Warren Sports Hall of Fame is open to all, with annual dues set at $25.00. Membership privileges include the right to nominate and vote on inductees and trustees and two free social events - the annual meeting and the induction eve social.
To join, send your name, address, home phone, work phone, e-mail address and a check in the amount of $25.00 to:
Warren Sports Hall of Fame, P.O. Box 1444, Warren, OH 44482
---
2014 Golf Outing
The first annual WSHOF Golf Outing was held on August 23, 2014 at Riverview Golf Course in Newton Falls Ohio. A great turn out of Golfers, beautiful day and great food.
We would like to Thank all of our Hole Sponsors, our Corporate Sponsors and especially our golfers and workers. Without any of these people the event would not had been the success that it was, Once again Thank You see you next year.
---
2014 WSHOF Induction
View the current year's inductees
Download the Induction Ceremony reservation form
---
2013 "The Game"
View photos from "The Game" 2013
---
2013 Pigskin Preview
Trumbull County coaches and fans gathered at DiLucia's Banquet Hall on Sunday as the Warren Sports Hall of Fame hosted the 2013 Pigskin Preview. Charles Wolbert of the WSHOF talked to each coach about the upcoming season after guest speaker, former Notre Dame and Akron head coach, Gerry Faust, spoke to the crowd. Faust, who began his coaching career at Cincinnati Moeller, was a hugely successful high school coach, garnering a career 178-23-2 record. He took over the coaching job at Notre Dame from 1981-85 after Dan Devine stepped down. After his stint with the Irish, in which he told the crowd many times that it was a "dream come true," he went on to coach at The University of Akron from 1986-1994. While Faust shared stories about his career at Notre Dame, and stories about coaching in both the collegiate and high school ranks, he left the area coaches with an important message. "Being a high school coach is the best job because you can develop the kids into fine young men," Faust said. "Wins on the field will keep your job, but the wins that truly matter are the ones that you get from seeing the young people you coach become a success in life."
---
In Recognition
In recognition of his endless service to The Warren Sports Hall of Fame, Charles Wolbert (out-going President) accepts an appreciation award from the Shawn Bryant (incoming President). Charles "Chico" Wolbert has served as President for the past 18 months, and is Chairperson for The Pigskin Preview event held every year. Under his direction, the event has turned into the areas number one High School Coaches event. Charles "Chico" Wolbert has been a driving force within The Hall of Fame for the past five years.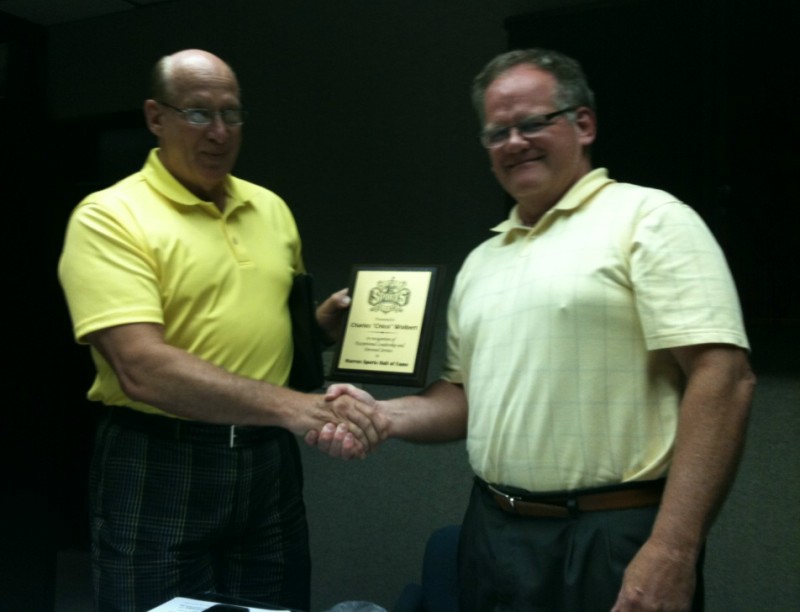 Charles "Chico" Wolbert (left) and Shawn Bryant (right)
---
Mark Your Calendar
Honoring our Local Heroes
May 19, 2013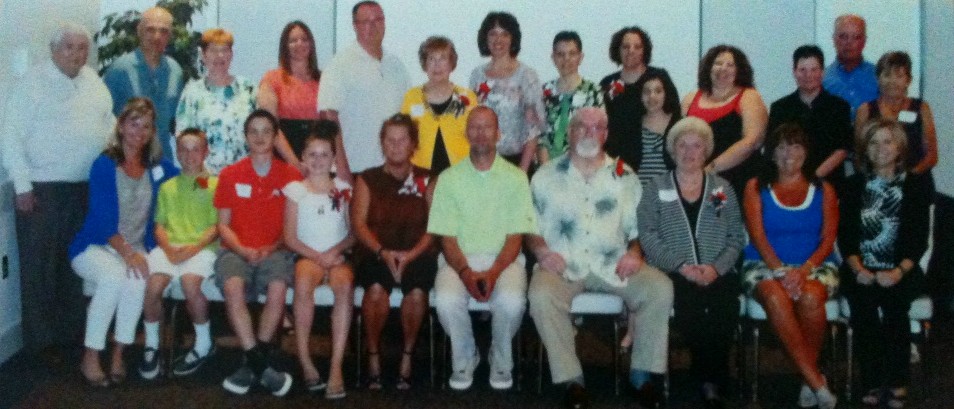 Pictured above are the Volunteers for the Area 11 Kelly Jo Carlson Memorial Special Olympics Swim Meet who were honored in May, 2013 for their devoted service over the past nine years.
Volunteers and coaches of the Fairhaven Special Olympics Kelly Jo Carlson Memorial Swim Meet were honored at the Warren Sports Hall of Fame Local Heroes Corner Recognition Banquet held May 19th at Leo's Ristorante.
Front Row: Kristen Matthus, Aaron Matthus, Marley Carlson, Cathy David, K.C. Carlson, Ted Walsh, Delores Scerba, Ruth Bubba and Pam Chrisopoules.
Back Row: Ray Schwab, Joe Sliman, Carol Kirsch, Bobbi Johnson, Bo Greene, Mary Reich, Carlene Whittaker, Mary Catherine Scarnecchia, Ann Marie Karabin, MacKenzie Karabin, Sarah Honsinger, Denise Romanchek, Paul Carlson and Lois Carlson.