Home
The Warren Sports Hall of Fame was formed in 1988 for the purpose of honoring those men and women in the community who have excelled in athletics or who have made substantial contributions to athletics in the Warren area. The Hall of Fame recognizes players, coaches, managers, trainers, team physicians and athletic directors among others.
Judge Donald R. Ford is credited with laying the groundwork for the organization. Bill White, former All-Star player and former President of Major League Baseball's National League, and Pro Football Hall of Famer Paul Warfield were two of the first inducted.
The Hall of Fame is administered by a board of trustees, which is selected for three year terms by the membership. The Board is led by a Head Coach, two assistant Coaches, a secretary and a treasurer.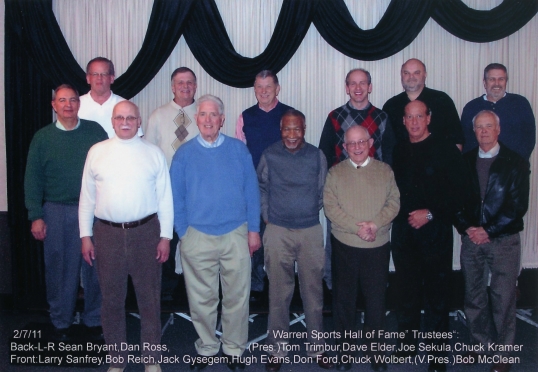 The east hallway entrance at the Warren-Trumbull County Public Library houses various display cases honoring those who have been inducted into the Warren Sports Hall of Fame. Each new class of inductees is honored at a Warren G. Harding or John F. Kennedy High School football game and at a formal banquet.
In addition, the organization hosts the annual "PIgskin Preview" and "Heroes Corner" events, as well as luncheon and dinner programs open to the public to bring outstanding speakers into the area.
Membership to the Warren Sports Hall of Fame is open to all, with annual dues set at $25.00. Membership privileges include the right to nominate and vote on inductees and trustees and two free social events - the annual meeting and the induction eve social.
To join, send your name, address, home phone, work phone, e-mail address and a check in the amount of $25.00 to:
Warren Sports Hall of Fame, P.O. Box 1444, Warren, OH 44482
---
Come see The Stanley Cup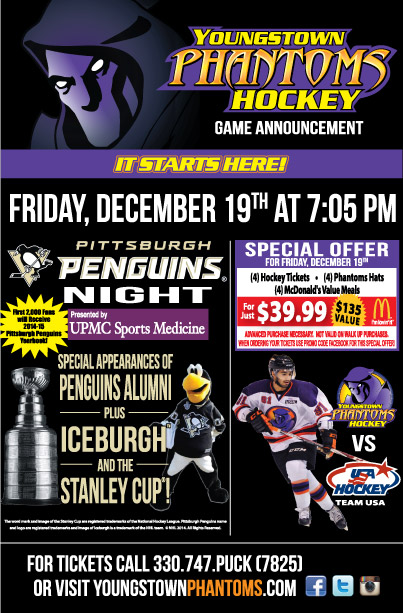 Dear Sports Fans:
I would like to extend an invitation to you to attend a special "Pittsburgh Penguins" game that the Youngstown Phantoms of the USHL are having on Friday, December 19th at 7:05 pm at the Covelli Centre as we take on Team USA. Between the two teams there are 19 players that are projected to be drafted in the 2015 National Hockey League draft. In attendance at the game will be Penguins Alumni, the Penguins Mascot Iceburgh, the Penguins Ice Crew, and "THE STANLEY CUP" . That's right, we will have the Stanley Cup at the game and all fans in attendance will be able to have their pictures taken with "The Cup".
I hope you can attend the game and come watch tomorrow's stars today!
For tickets contact Jessica Gatten (jgatten@youngstownphantoms.com) at 330-746-5184 or Adam Bogert (abogert@youngstownphantoms.com) at 330-746-5272.
I hope to see you there,
Troy Loney
Co-Owner & CEO
Two -Time Stanley Cup Champion with the Pittsburgh Penguins
---
2014 "The Game"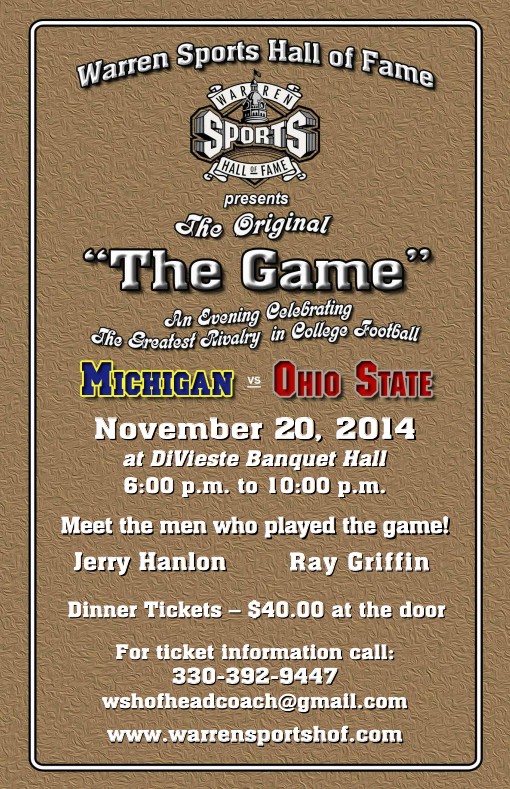 ---
2014 WSHOF Induction
View the current year's inductees
Photos from the 2014 Induction Dinner at DiVieste Banquet Hall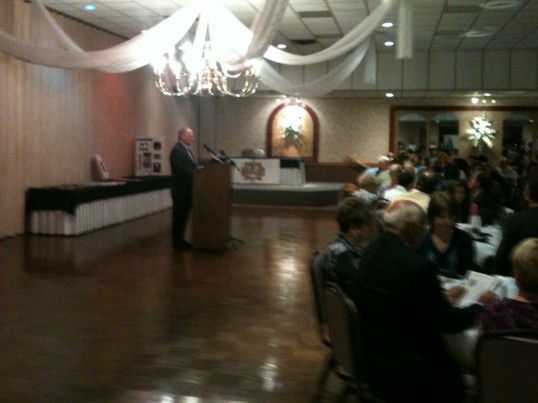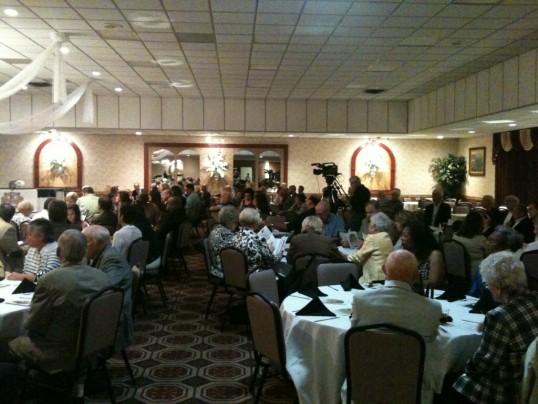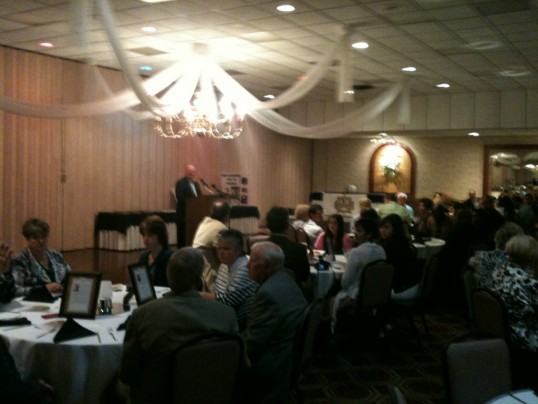 ---
2014 Pigskin Preview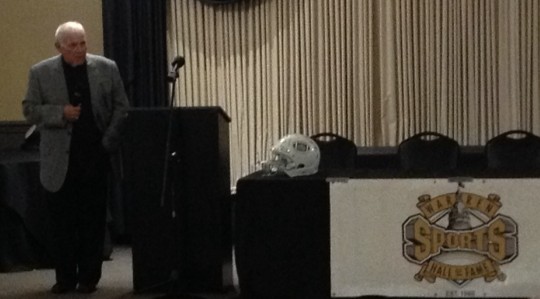 Ed Glass addressing an audience 70 inquiring high school football enthusiasts and our Trumbull County Coaches, on Sunday August 24, 2014. Coach Glass covered all areas regarding coaching young high school athletes at this level and preparing them for future endeavors.
Ed Glass
Ed Glass was the head coach of the Harding Football team that tied for the championship of the All- American Football conference in 1973. The league consisted of the High Schools of Steubenville, Alliance, Canton McKinley, Massillon, Niles and Harding. Ed's 1974 Harding team won the Ohio State AAA State Championship. He was the defensive coordinator for the 1971 Ohio State AAA Football Championship team.
Ed's very successful career, as a teacher and coach, began at West Branch HS and Mt Union College. He then went on to Harding, Hubbard, where he also served as an administrator, and finished at North Canton. He was a very successful coach of wrestling and track, but his first love and most success, was coaching football. However, when asked what he enjoyed coach most he responded, "young athletes".
Listed here is a chronology of Ed's coaching career, awards and achievements.
1965 – West Branch HS Alliance Area Coach of The Year for Boy's Track
1971 – Defensive coordinator for the Harding Ohio State AAA Football Champions
1972 – Warren Harding HS – Eastern Ohio Wrestling League Coach of The Year
1974 – Head Coach Harding HS AAA State Football Champions – UPI Coach of The Year – Youngstown
Curbstone Coaches & Trumbull County Coach of the Year – Winning Head Coach of North South All-Star
FB Game and the Penn-Ohio Big 33 game.
1979 – 1980 President, Ohio Football Coaches Assoc.
1984 – AP NE Ohio Coach of The Year & Canton Repository Coach of The Year.
1986 – Stark County Coach of The Year
1995 – Federal League Track Coach of The Year, North Canton.
1997 – Mount Union "M" Club Award of Excellence
1999 – Alliance HS Hall of Fame
2005 – Ohio High School Football Coaches Hall of Fame
2011 – Inducted into North Canton Hoover HS Hall of Distinction.
Ed will be inducted into the Warren Sports Hall of Fame September 5, 2014.
---
2014 Golf Outing
The first annual WSHOF Golf Outing was held on August 23, 2014 at Riverview Golf Course in Newton Falls Ohio. A great turn out of Golfers, beautiful day and great food.
We would like to Thank all of our Hole Sponsors, our Corporate Sponsors and especially our golfers and workers. Without any of these people the event would not had been the success that it was, Once again Thank You see you next year.
---
2013 "The Game"
View photos from "The Game" 2013
---
In Recognition
In recognition of his endless service to The Warren Sports Hall of Fame, Charles Wolbert (out-going President) accepts an appreciation award from the Shawn Bryant (incoming President). Charles "Chico" Wolbert has served as President for the past 18 months, and is Chairperson for The Pigskin Preview event held every year. Under his direction, the event has turned into the areas number one High School Coaches event. Charles "Chico" Wolbert has been a driving force within The Hall of Fame for the past five years.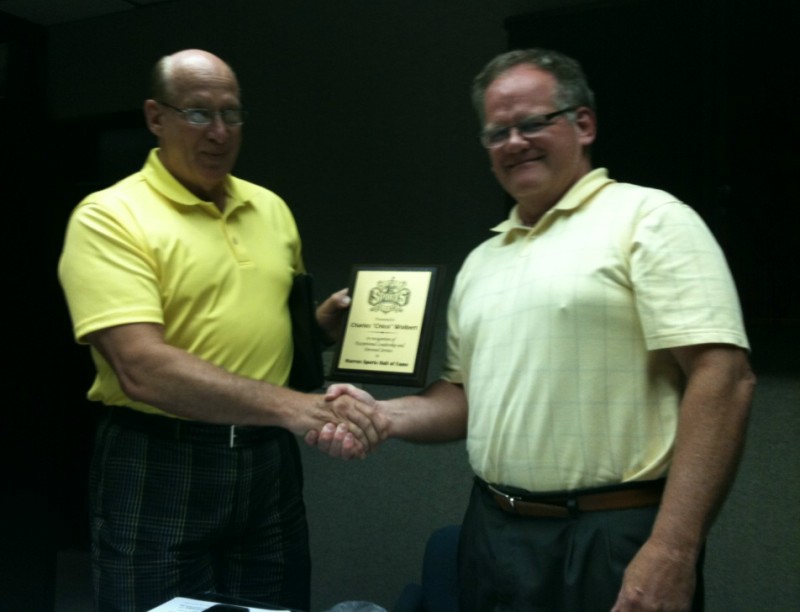 Charles "Chico" Wolbert (left) and Shawn Bryant (right)
---
Mark Your Calendar
Honoring our Local Heroes
May 19, 2013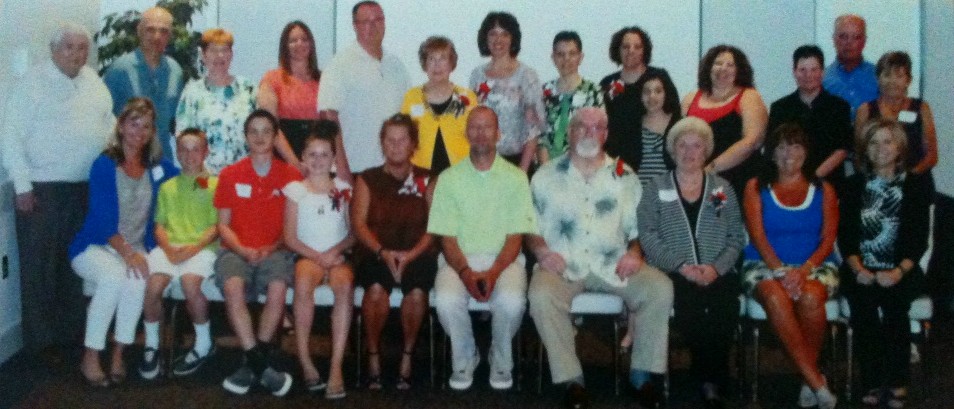 Pictured above are the Volunteers for the Area 11 Kelly Jo Carlson Memorial Special Olympics Swim Meet who were honored in May, 2013 for their devoted service over the past nine years.
Volunteers and coaches of the Fairhaven Special Olympics Kelly Jo Carlson Memorial Swim Meet were honored at the Warren Sports Hall of Fame Local Heroes Corner Recognition Banquet held May 19th at Leo's Ristorante.
Front Row: Kristen Matthus, Aaron Matthus, Marley Carlson, Cathy David, K.C. Carlson, Ted Walsh, Delores Scerba, Ruth Bubba and Pam Chrisopoules.
Back Row: Ray Schwab, Joe Sliman, Carol Kirsch, Bobbi Johnson, Bo Greene, Mary Reich, Carlene Whittaker, Mary Catherine Scarnecchia, Ann Marie Karabin, MacKenzie Karabin, Sarah Honsinger, Denise Romanchek, Paul Carlson and Lois Carlson.